Advance Cervical Care System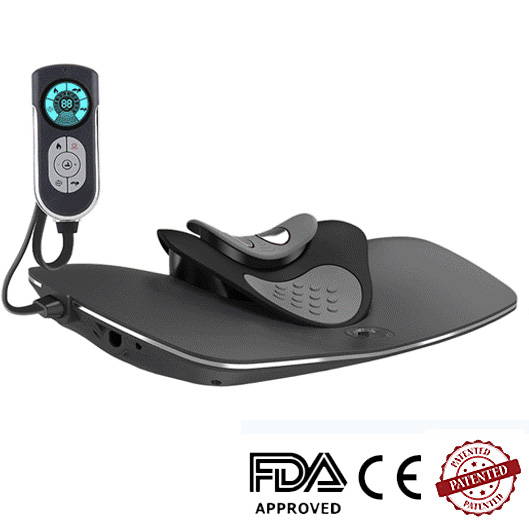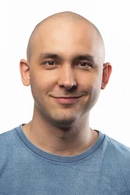 "I used to see a chiropractor regularly and get traction to realign my spine and neck. My neck had lost its natural curve due to muscular tightening from injuries. This cervical traction device has been gently lengthening my tight neck muscles and opening the spaces in the vertebrae which, too, had become compressed. My posture has suffered over the years and after using the Tractionpro daily for the past several weeks, I've had more relief in my neck area and I'm sitting up better now and less headaches! The traction being administered here is effective, yet subtle and this will be my daily driver after my workouts! ... "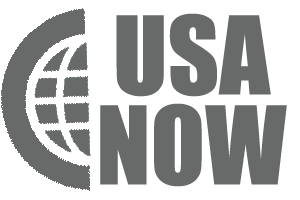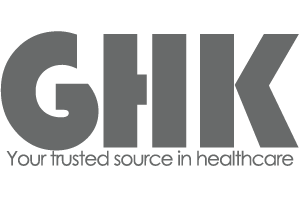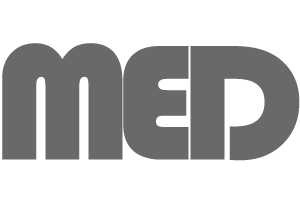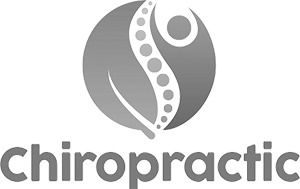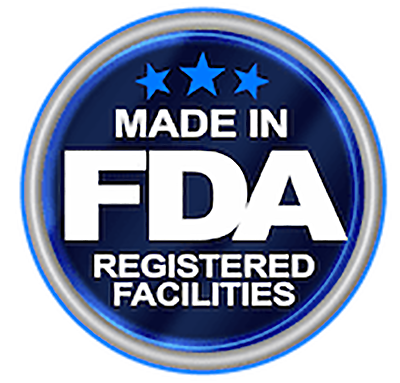 TractionPRO is an official FDA Cleared Medical Device that is manufactured in our FDA registered facility.
It's important to know where a medical device is manufactured because only certain facilities are approved to make them in accordance with FDA standards.

All products manufactured through a FDA approved facility goes through rigorous safety and quality tests for every component before they reach you at consumer level.
Please keep the following in mind to make sure that the recovery device you are buying is genuine and also from a reputable source
Neck pain is very prevalent in our society and is one of the major causes of absence from work today. We often sit hunched up over our computers all day or evening and gradually due to this compression, we may get problems with our spinal discs.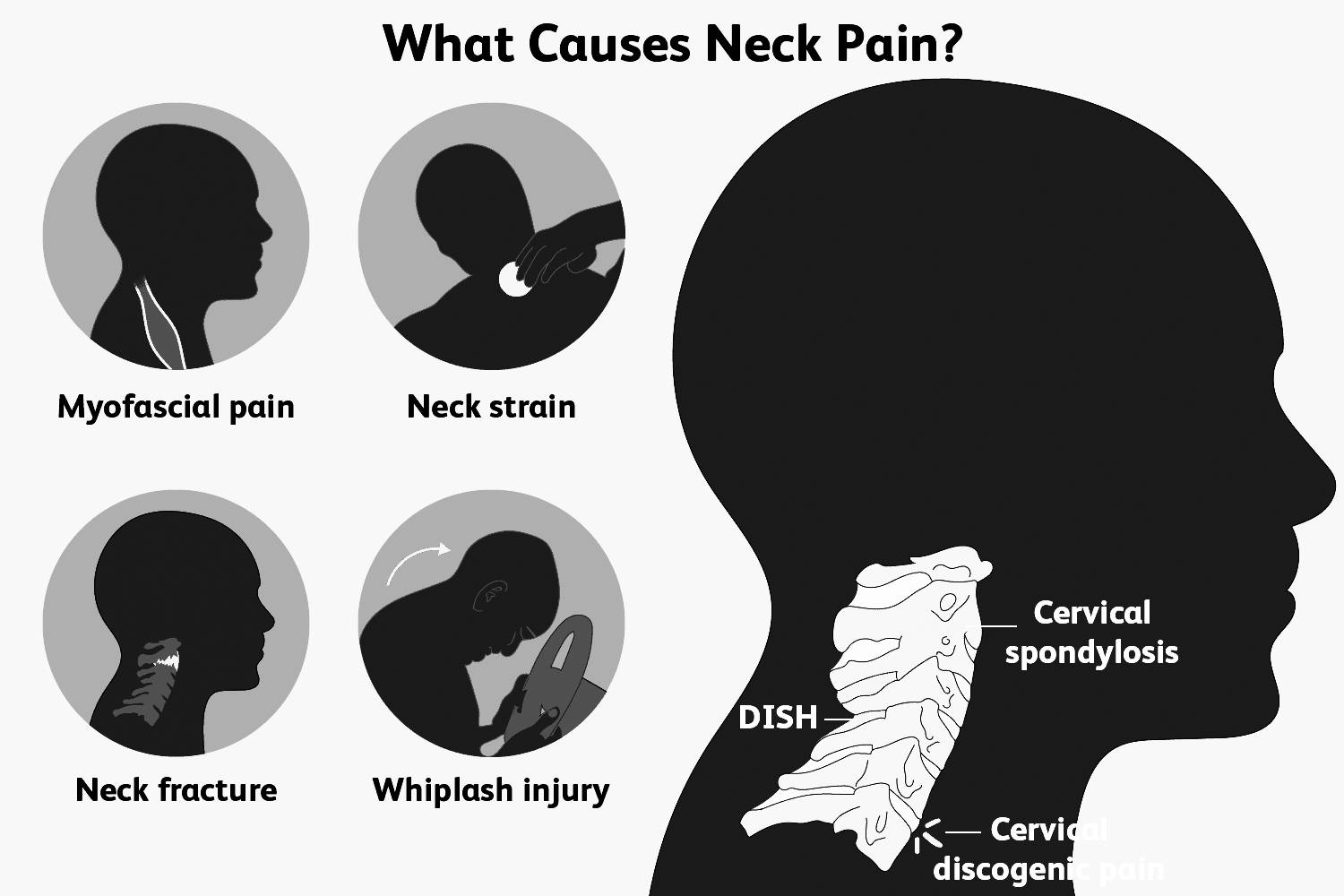 Tractionpro KP800 is a multifunctional at-home cervical care system, designed to alleviate neck and shoulder pain, keep cervical vertebra active, prevent cervical spondylosis and retain a proper posture making you feel fresh and invigorated.
Tractionpro KP800 has been carefully engineered to provide maximum comfort, efficiency, and ease of use and truly makes it possible for anyone to have a professional physiotherapy device at home.
By gently stretching and decompressing the spinal cord, it helps to increase blood circulation to the structures of the cervical spine, helping to oxygenate muscles, nerves, tendons, thus decreasing pain and promoting relaxation.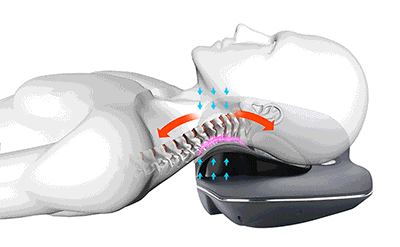 Most Advance Cervical Care System on the market
Traction Pro KP800's Bidirectional Motion Technology creates true dynamic traction. It leaves the cervical spine free to stretch, opens the 7-section cervical vertebrae evenly between the motion, and restores the cervical vertebrae's vitality.
Relieves Painful Neck and Upper Back Stiffness, Headaches, and Fatigue

Restores the Natural Curve of the Neck

Decompresses and Hydrates Discs in Neck and Upper Back Regions

Reduces and Corrects Forward Head and Neck Posture

Manage Joint, Sprain, and Spasm Pain

Alleviate Bulging or Herniated Cervical Discs

Relief from pinched nerves

Improve flexibility & range of motion

Completely safe pain relieve. Zero medication required.

New improved 2023 versionprovides more comfort & better support

Patented and approved by FDA and CE
Tractionpro KP800 gently stretches the neck helps to hydrate discs, increases blood circulation, and is designed to restore the natural curve of the neck.
It utilizes a combined Fixed Point Traction and Intelligent Air Pressure Traction system to restore the 26-degree optimal vertebral arch.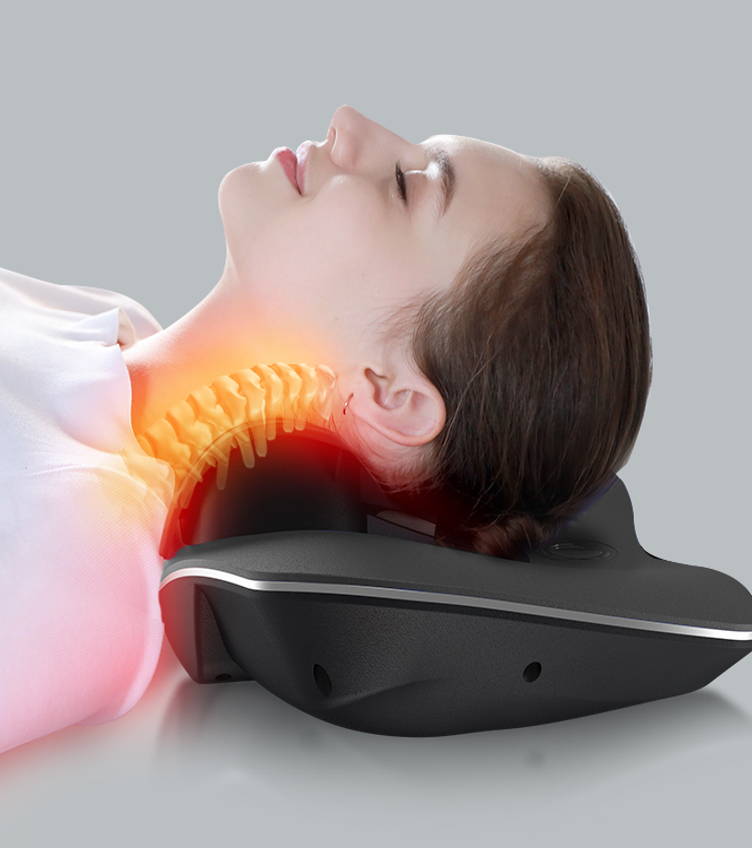 Tractionpro KP800 works with four functions :

1. True Dynamic Neck Traction
2. Electric Pulse Therapy
3. Adjustable Heat Therapy
4. Auto Modulating Technology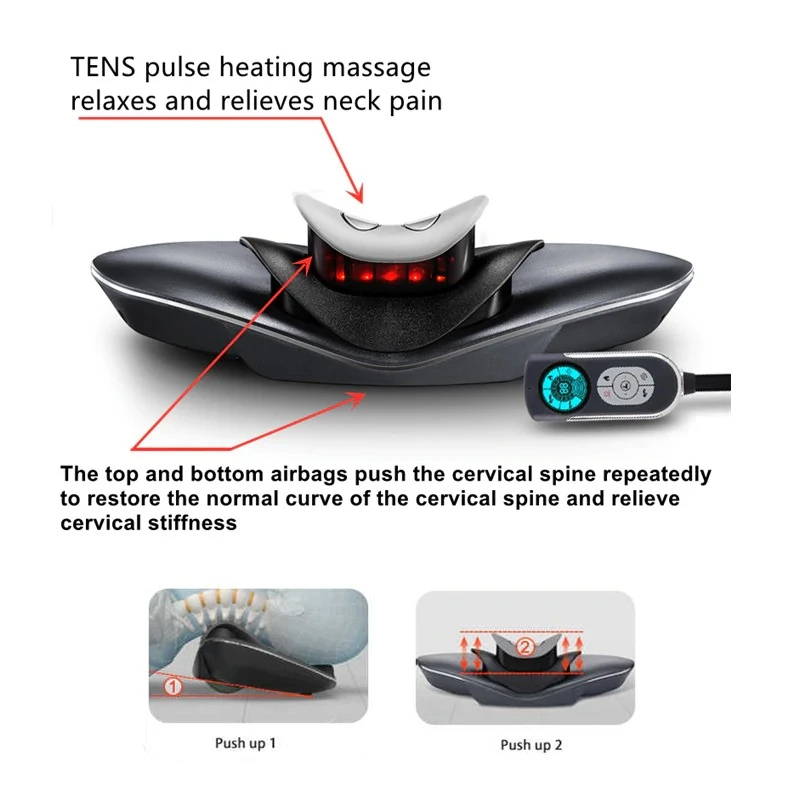 True Dynamic Neck Traction
True Dynamic Traction creates expansion between the head and the neck, separating the vertebrae to relieve pressure between discs or off of the compressed nerve, stretching the surrounding joints and muscles, and improving blood circulation.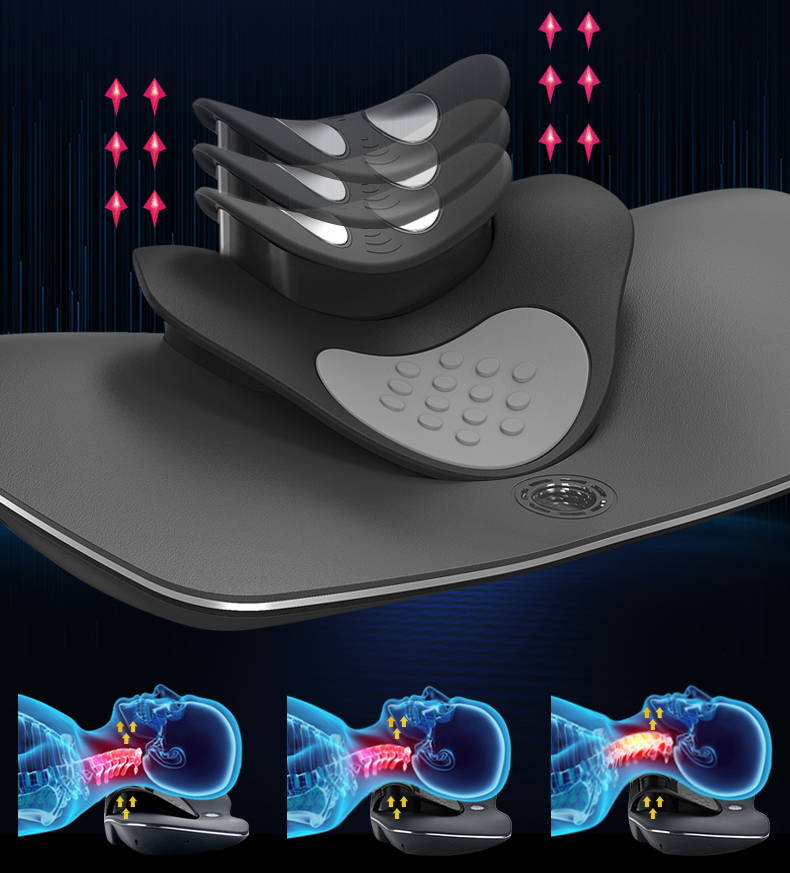 Intelligent dual rise and release traction is the most effective and satisfying tension relief we can now have in the comfort of our home.
With its Bidirectional Curve Traction, it pulls apart vertebral space evenly and treats different causes of neck pain, tension, and tightness helping to relax the muscles. It reduces the pressure between discs or off of a compressed nerve, as well as by stretching the surrounding joint structures and muscles, supplying oxygen to the brain by improving blood circulation to the spine , which can significantly relieve pain and stiffness while increasing flexibility.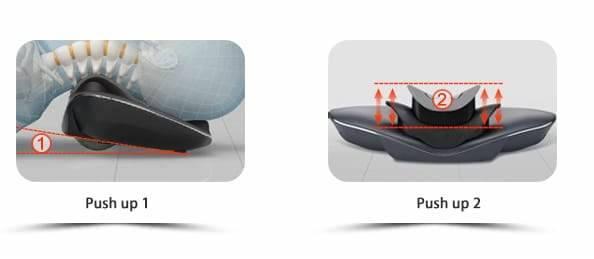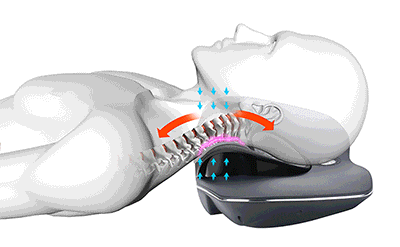 features 3 rhythmic automatic modes
True Dynamic Traction creates expansion between the head and the neck, separating the vertebrae to relieve pressure between discs or off of the compressed nerve, stretching the surrounding joints and muscles, and improving blood circulation.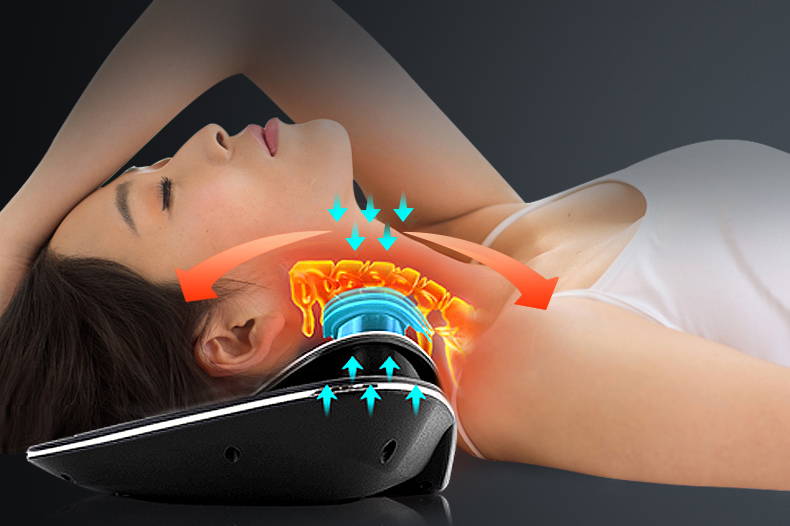 Each mode combination can be adjusted according to the user's own preferences.
These improvements may lead to enhanced mobility, range of motion, alignment, and allow you to go about your daily activities with greater ease and comfort.
Tractionpro KP800 has been carefully engineered to provide maximum comfort, efficiency, and ease of use and truly makes it possible for anyone to have a professional physiotherapy device at home.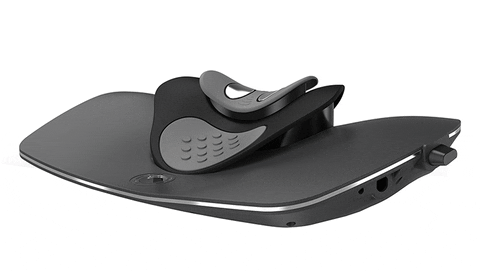 The built-in pulse generator sends electrical impulses to the spinal cord, stimulates and regulates the nervous system helping to ease tiredness, promote blood circulation, enhance immunity, improve sleeping quality and activate collaterals to relieve your body pain.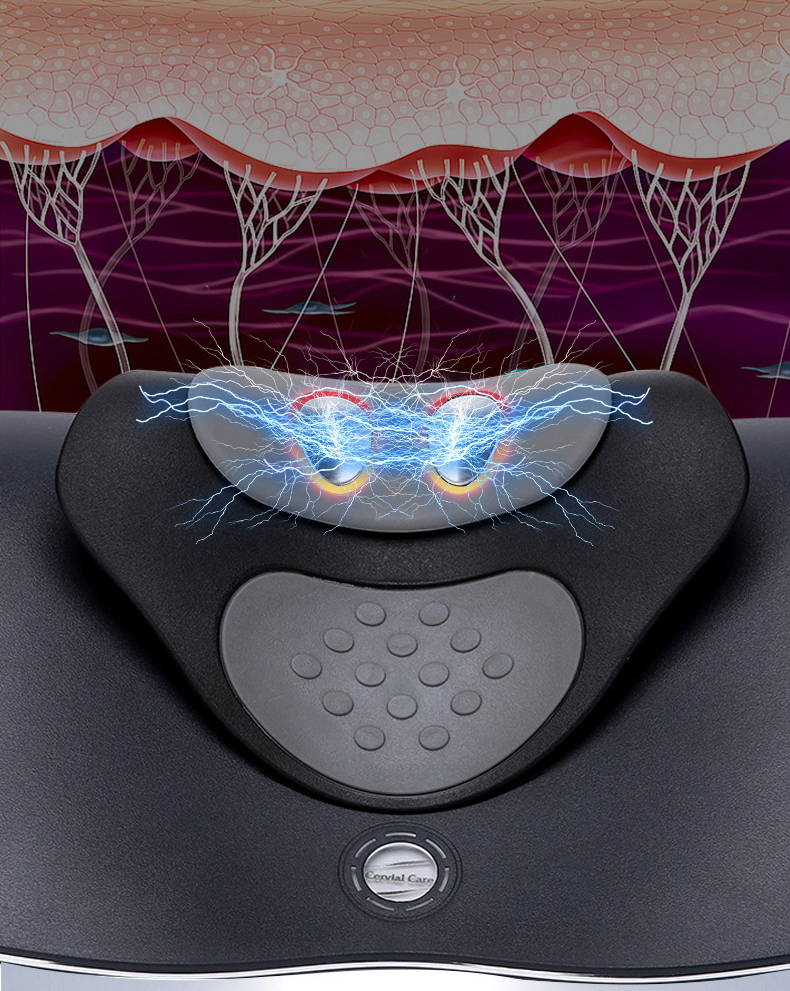 The device utilizes Bionic TENS (Transcutaneous Electrical Nerve Stimulation) which penetrates 1.2-2 inches / 3-5 cm deep into the skin and directly hits the pain point.
The device quickly opens up the human body meridians through the frequency conversion impact.
The 12-speed low-frequency intensity and 3 combinations of Beat, Acupuncture, Beat, and Acupuncture Combination, can be adjusted according to the user's own requirements and preferences.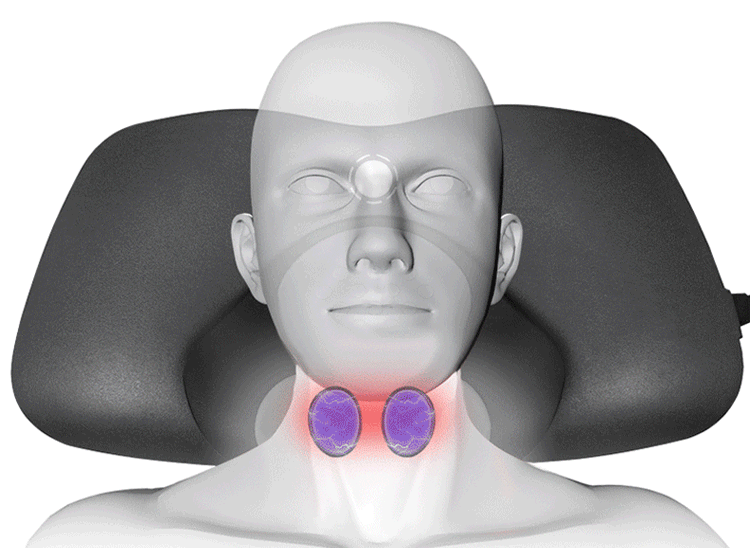 Tractionpro KP800 provides 3 adjustable temperature settings to comfort the individual preference and apply soothing heat therapy to aching neck muscles.
Uniquely designed to target the muscles in the back of the head and neck, it contours to the shape of your neck to provide targeted relief.
This heating therapy delivers gentle heat to tender muscles, increasing blood flow, and allowing muscles to relax.
.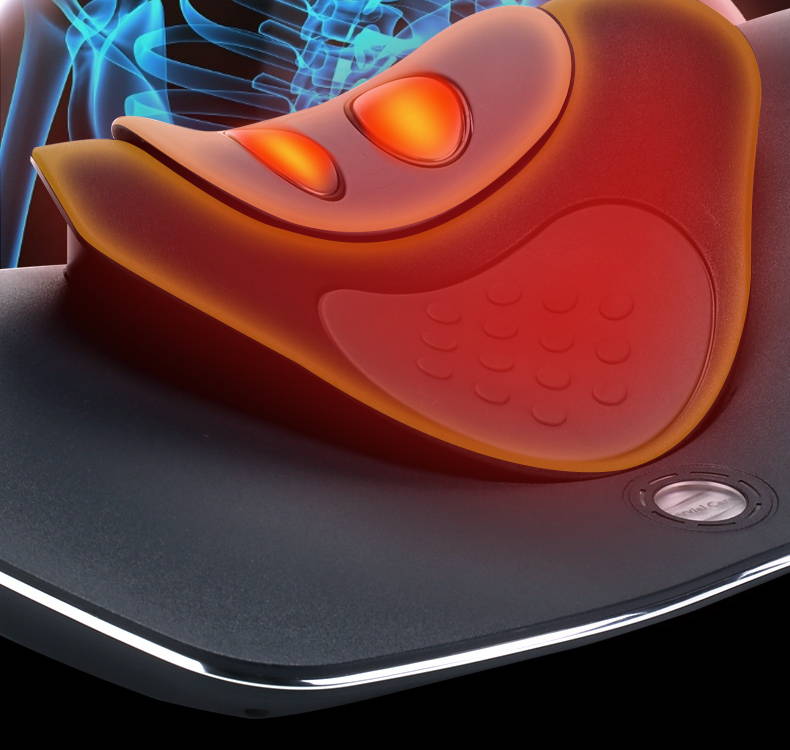 Combine Traction along with Heating to help treat Pinches, Stiffness, Tension, Strains, Increasing blood flow, Relaxing spasms, and Soothing muscles.
When the temperature reaches about 50°, the device locks automatically to avoid applying excessive heat.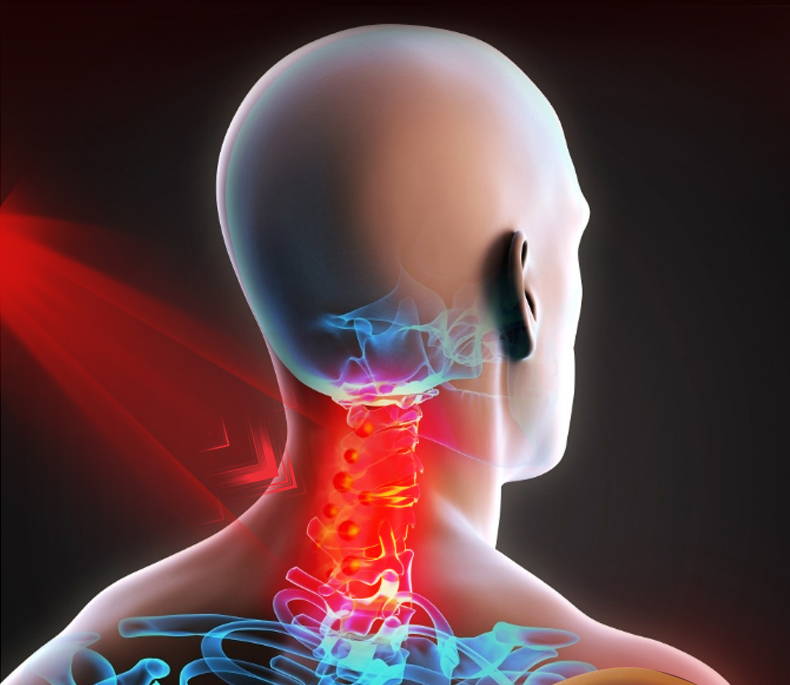 Tractionpro KP800 comes with external electrode pads that can be applied to different parts of the body, such as legs, back, feet, joints, arms, and etc.
.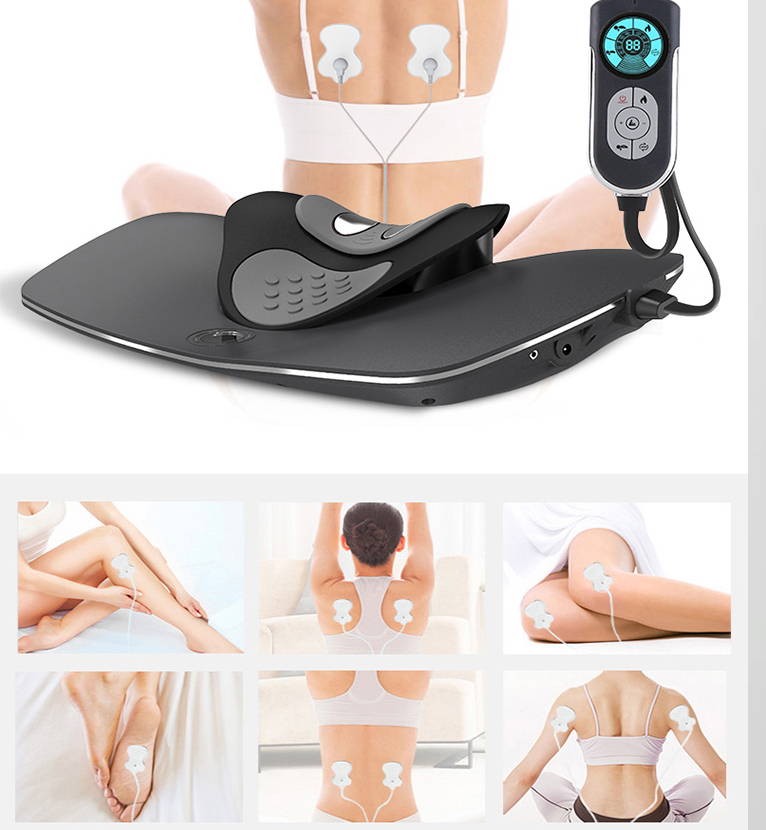 The air pump is located inside the controller, away from the user, reducing noise and creating a more comfortable environment to ensure the user can enjoy the pleasure of massage quietly.
When in use, some users may even easily fall asleep in a comfortable environment!
To ensure the user's safety, the device is set up to auto power-off after 15 minutes.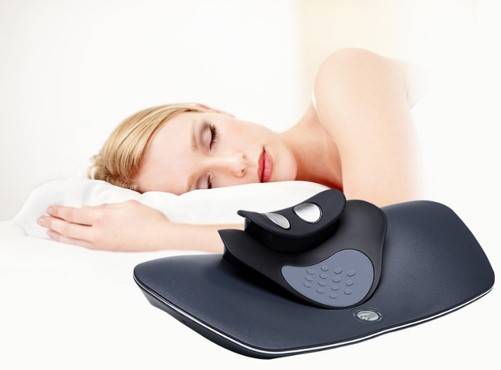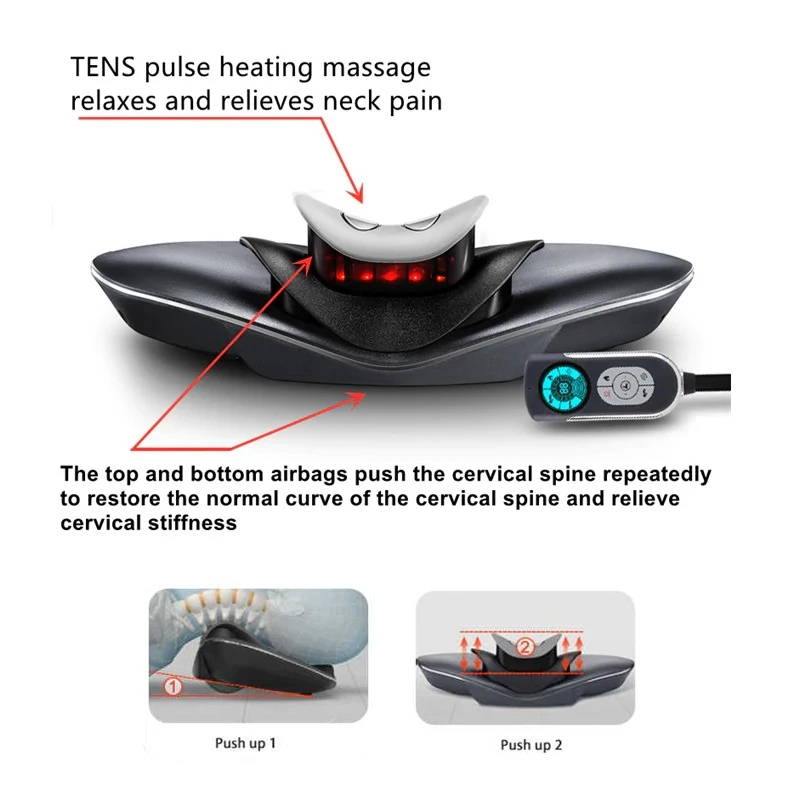 Combine all 3 functions at once or adjust the heat and traction individually with the help of an intelligent handheld controller.
Each function and frequency combination can be adjusted according to the user's own feelings and preferences.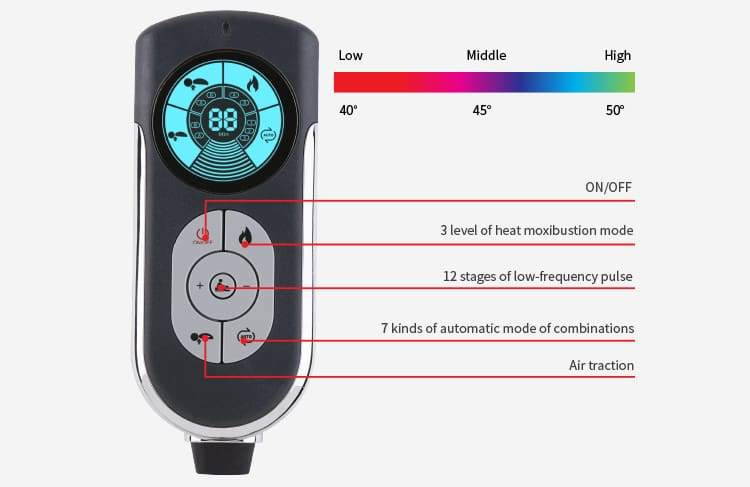 Very helpful
Very helpful. It helping me a lot. And i'm getting way better.
Easy to use.
This product is incredible! It is easy to use, comfortable and gives instant relief. I struggled with pain in my neck repeatedly and this product immediately started to fix that - from the first time I put it on I could feel a light stretch in my neck like I hadn't been able to achieve with any other product.
Best Medicals Devices
I have been a fan of Phamcare and have purchased every single product they sell. Tractionpro and the lumbar massager is my favourite out of all their products. I use them both at night before sleeping and I wake up pain free.
Amazing product
Love it. I developed a very painful neck condition and was getting physical therapy twice a week but I didn't want to visit during covid . This device worked wonders for me .
Works so well
Started to use this item everyday for about 20 minutes (or more!) to help relieve my neck pain. Noticed a difference after a few days of using it. I definitely think it helped!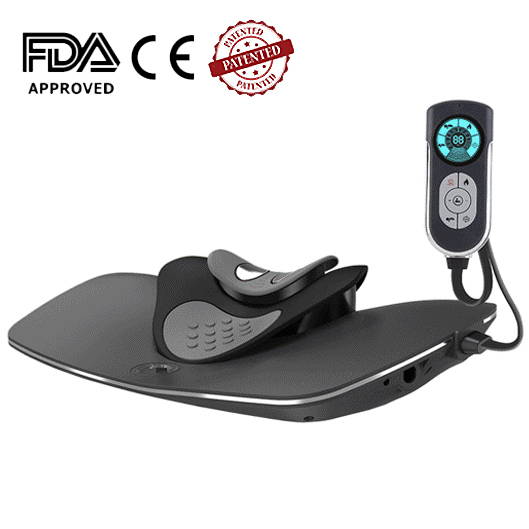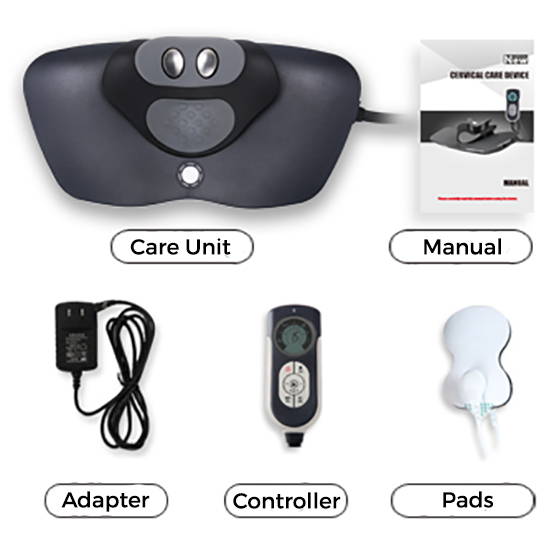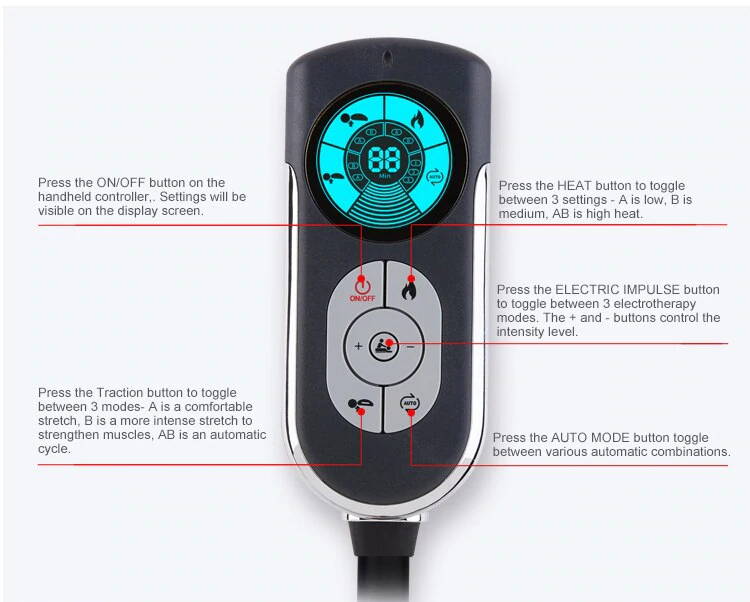 CHECK OUT OUR OTHER BEST SELLERS
Side effects and warnings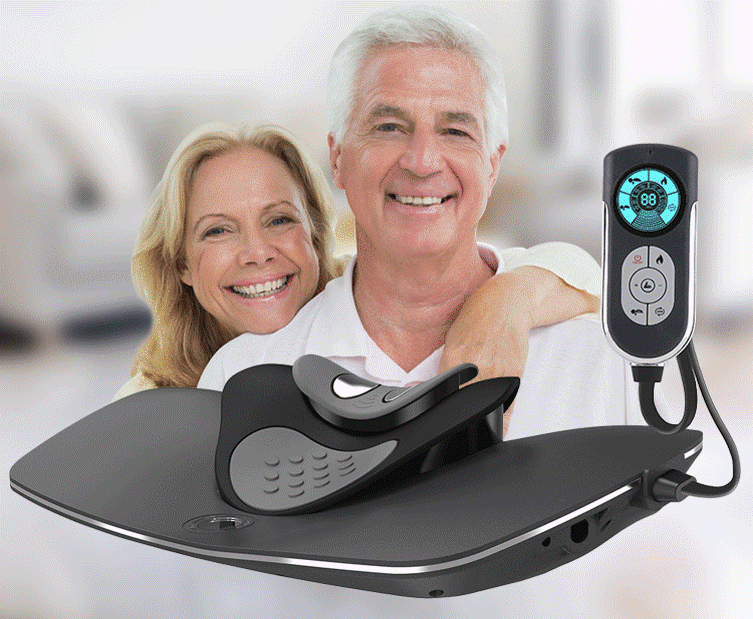 Generally, it's safe to perform cervical traction, but remember that results are different for everyone. The treatment should be totally pain-free.

It's possible that you can experience side effects such as headache, dizziness, and nausea upon adjusting your body in this manner. This may even lead to fainting. Stop if you experience any of these side effects, and discuss them with your doctor or physical therapist.
It's possible for you to injure your tissue, neck, or spine. You should avoid cervical traction if you have:
post surgery hardware such as screws in your neck
a recent fracture or injury in the neck area
a known tumor in the neck area
a bone infection
issues or blockages with vertebral or carotid arteries
osteoporosis
cervical instability
spinal hypermobility
It's important that you follow any safety instructions and recommendations provided by your doctor
Make sure you're performing the movements correctly and using the appropriate amount of weight. Don't overexert yourself by doing cervical traction for too long. Discontinue use if you experience any pain or irritation or if your symptoms get worse.
Do not use TENS therapy at these specific body locations if you have any of the following conditions:

Do not use TENS therapy over or close to the areas where an electronic device is implanted. TENS could cause these devices to malfunction.
Are pregnant. Do not apply TENS therapy to the abdomen; pelvic area; lower back; or to acupuncture points at the knee, hand or ankle. (However, TENS can be used for labor pain.)
Cancer. Do not apply electrodes to areas of the body where there is known or suspected cancer. Do not use TENS if you have undiagnosed pain and a history of cancer in the last 5 years.
Epilepsy. Do not apply electrodes to your head, neck or shoulders. The impulses could cause seizures.
Deep vein thrombosis or thrombophlebitis. Do not use TENS therapy as it may increase blood circulation, which may increase the risk of dislodging a blood clot.
A bleeding (hemorrhagic) disorder or recent or actively bleeding tissue. TENS therapy could increase bleeding at the tissue site or increase the risk of bleeding in persons with bleeding disorders.
Heart disease. Do not apply TENS therapy to the chest if you have heart disease, heart failure or arrhythmias.
In addition, TENS should not be applied:
To infected tissues, wounds due to osteomyelitis or if you have tuberculosis. TENS therapy may result in the spread of infections.
To areas of tissue that have been recently treated with radiation.
To damaged skin (Except for open wounds where the intent is to use electrical stimulation to heal tissue. In these cases, therapy should be guided by a skilled therapist.)
Near or over eyes or mouth, front or side of neck, or on the head.
Near reproductive organs or genitals.
To areas of the body that lack or have reduced sensation.
In persons who have trouble communicating or who have mental impairment and cannot provide feedback to ensure the safe use of TENS.
If you have any current or past health issues, or any concerns or questions, always check with your healthcare provider before using TENS.
Warning & instructions : Please follow the instructions provided in the operating manual for safe use , and maintain regular maintenance of the product. The information in this product is not intended to diagnose or treat a health problem or disease. If you have any medical problem , contact your healthcare provider immediately. By placing an order with phamcare.com , you agree to indemnify, defend and hold harmless Phamcare and our parent, subsidiaries, affiliates, partners, officers, directors, agents, contractors, licensors, service providers, subcontractors, suppliers, interns and employees, harmless from any claim or demand, including attorneys' fees, made by any third-party due to or arising out of your breach of these Terms of Service or the documents they incorporate by reference, or your violation of any law or the rights of a third-party.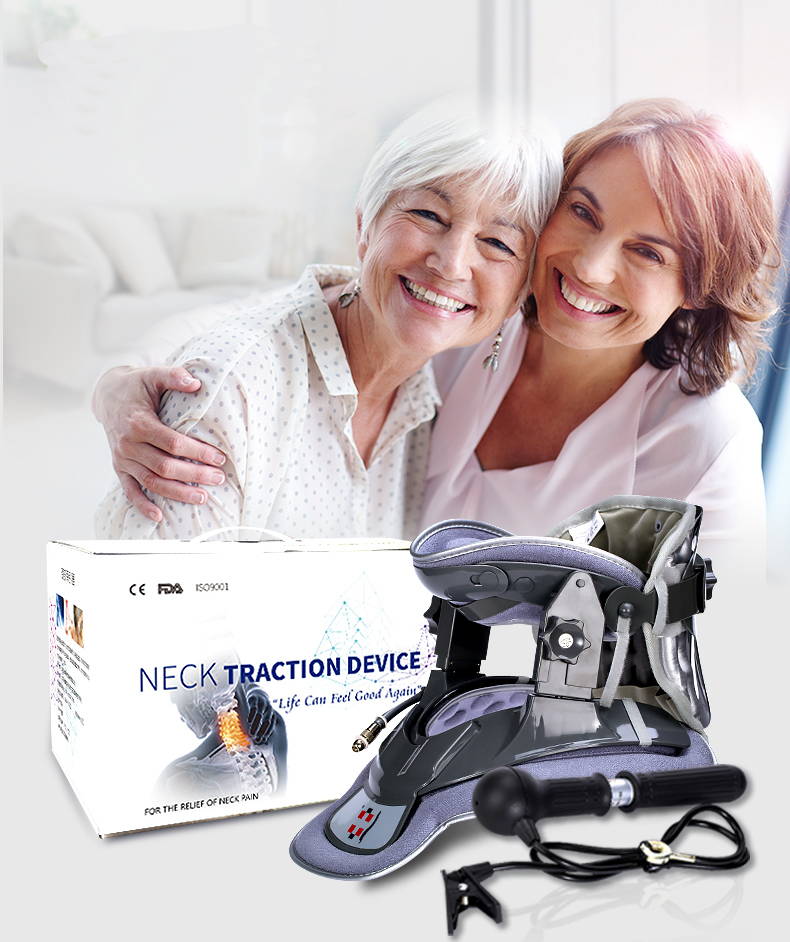 Established in 2018, Recovapy.com was formed to provide effective healthcare products .
We have established enduring business relationships with our customers because we have an in-depth working knowledge of the healthcare industry and that knowledge is reflected in our quality products and customer service.
We stand behind every one of our products with industry-leading guarantees and a customer-friendly return policy.